performing opportunities
People from our courses receive amazing ongoing performing opportunities with the chance to perform on a weekly basis in one of our House Teams at our improv theatre.
This year we are starting multiple house teams each season and will be announcing auditions on this page and on our email newsletter.
We also help our students form their own groups and have regular nights for them to perform and build up stage time and experience. We also have two jams a week to help improvisers build up performing experience and network with other improvisers.
We look after our students and give them long term performing opportunities.
Our improv theatre has shows 7 nights a week featuring people who have trained with Hoopla.
the hoopla community
Hoopla support improvisers, even months or years after they've done a course with us, and we constantly strive to give them the performing opportunities and support they need.
We even have a dedicated Producer (Angela Pollard) who is there to support you with performance opportunities and advice whenever you need it.
We also put on regular networking events, socials, parties and festivals.
We have a large welcoming community of improvisers, and it would be great to have you be part of it.
hoopla helps you become a professional performer
People from Hoopla courses have gone on to perform with lots of amazing professional groups across the UK improv scene including The Comedy Store Players, The Maydays, Impromptu Shakespeare Company, Dreamweaver Quartet, The Playground, Bumper Blyton, Project2, The Committee, Breaking & Entering, The RH Experience, Do The Right Scene, Music Box, The Inflatables, Beings, Grand Theft Impro, Bumper Blyton, Oxford Imps, Do Not Adjust Your Stage, The London Improvathon, Actors Nightmare and more.
Our students have also written and performed in comedy sketches on BBC3, written for BBC Radio 4 comedy, and appeared on various TV shows including Michael McIntyre's Comedy Roadshow. Many of our teachers also write and perform for TV and Radio comedy including The Tracey Ullman Show on BBC1, BAFTA winning sketch show Class Dismissed and BAFTA winning sitcom People Just Do Nothing.
Hoopla's improv theatre has also hosted shows from the Olivier award winning Showstoppers, Austentatious, Paul Merton, Josie Lawrence, North Coast, The Glenda J Collective, The Mischief Theatre (creators of The Play That Goes Wrong), Abandoman, Mike McShane, Richard Herring, Dummy, Luisa Omielan and many of The Comedy Store Players and original cast of Whose Line Is It Anyway.
improv for everyone
Hoopla aim to make improv for everyone, open and accessible to all. We welcome all styles of improv from people of all backgrounds.
We offer reduced-price or free places on improv classes to students, unemployed or people on lower incomes, and can support these people all the way into shows so that training costs aren't a barrier to performing.
We also work with a number of schools and charities to help make improv available to everyone.
Our diversity policy makes sure we make improv available to people of all backgrounds, and our code of conduct policies enable us to create a fun, safe and supportive environment in all of our classes and shows:
receive news about casting calls
current casting opportunities
We are currently casting for new scenes based and long-form shows for the New Year.
Applications close 24th January 2020.
progression as an improviser at hoopla
Hoopla Improv Courses, with end of course shows
↓
Auditions for House Teams or forming your own group
↓
Performing at Pre-Party as show develops
↓
Performing in Clubhouse regularly to build audience and show further
↓
Performing at our Main Stage Shows
↓
Group showcased via online film channels (in development)
↓
Group showcased at festivals (in development)
We also have 2 jams a week for to help you build up stage experience as you go. We also help our students form their own groups with many performing opportunities for new groups at Hoopla.
additional performing opportunities
In addition to Hoopla's house team system we also have loads of other performing opportunities for groups and improvisers.
Many of our groups form by getting together at Hoopla courses and we support them with shows every night of the week, with different shows designed to suit different groups.
We have something suitable for everything from brand new groups to professional experienced teams, with the right audience for the right show.
We even have a full-time Producer employed, Angela Pollard, who creates performing opportunities for our students, books shows, promotes shows and ensures we have diverse line up of acts over the season.
We're here for you!
How to apply for show spots for your group

For jams you don't have to book you can just turn up on the night a bit before it starts and sign up to perform there and then. To apply to join our house teams please check out our castings page.
If you or your group would like to take part in one of our other nights please contact our shows producer Angela Pollard with the following details:

What type of night your show would be suitable for.
Name of group.
Description of group (written from point of view of audience so it sells the show).
Cast list of who is in the group.
How long the show is and alternative times it could do.
Any reviews or press you have about the show.
Any images you have for the show.
Any social media or web links you have for the show.
We do try really hard to fit everyone in but due to limited space and a large number of groups we can't guarantee a spot for everyone, and there may be a waiting list until we have a space.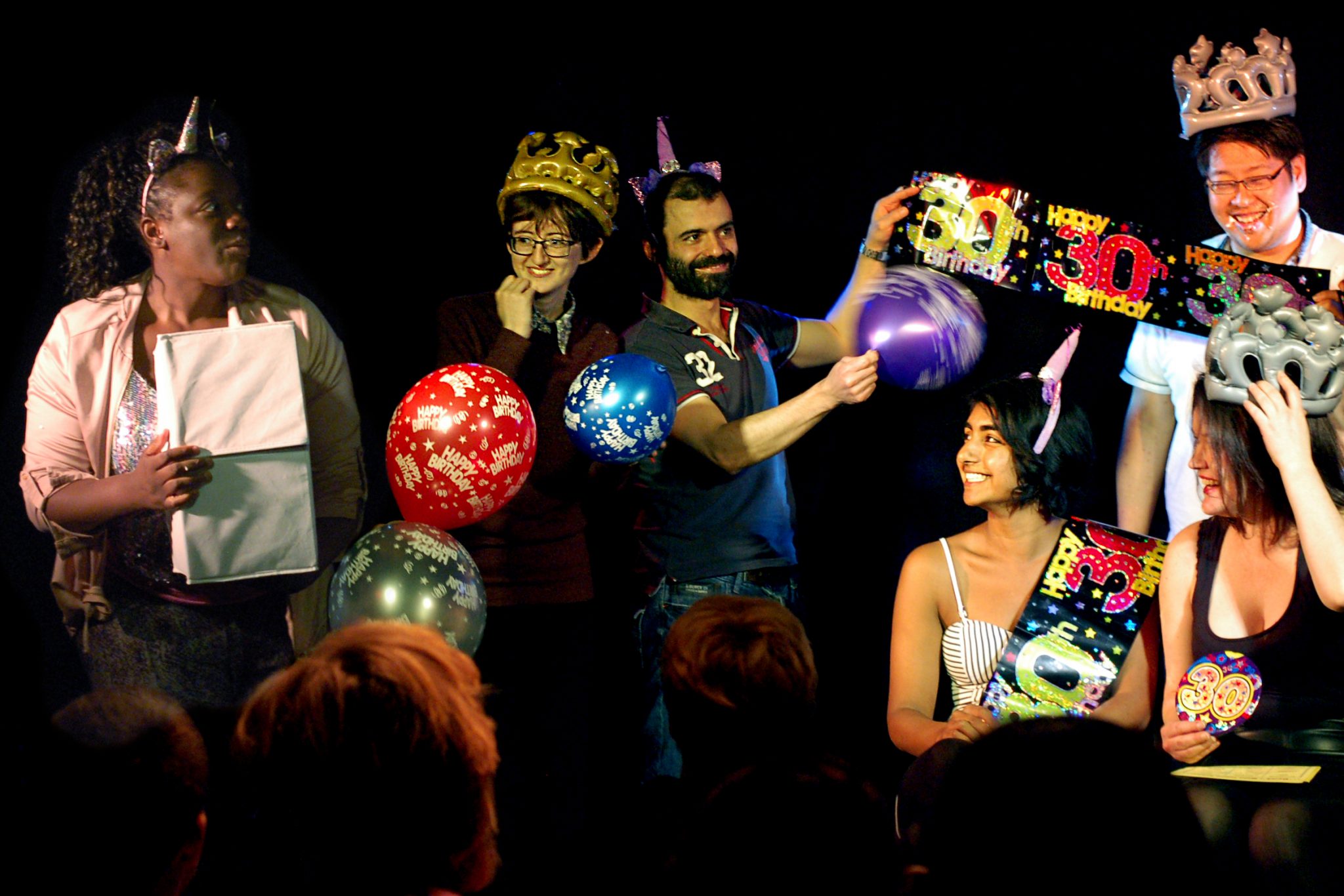 hoopla's shows, night by night
Tuesdays, 8pm – 10pm: Independent Groups
Tuesdays are for groups running their own nights, such as the incredibly successful Clusterf**k with their free mix of stand up, improv and sketch comedy.
Wednesdays, 7pm – 8pm: Jam
A free fun mix of short-form games and scenes, open to anyone to come along to on the night. A great place to get some practice on stage whenever you are free.
Wednesdays, 8pm – 10pm: Community
A variety of great shows to help expand the UK improv community and improv the diversity of the UK improv scene. Regular nights here include Do The Right Scene which has increased the number of Black and Asian improvisers in London, Zeal in connection with London Pride to help increase the number of LGBT improvisers, plus Ladyprov and Word of Muff to increase the number of women in improv.
The communities we build up here then carry across to our other nights and casting of our house teams.
Thursdays, 8pm – 10pm: Clubhouse
A weekly free night of improv featuring our House Teams plus special guests. This is where people on our house teams get to perform every week and build up a huge amount of stage experience.
Fridays, 8pm – 10pm: Main Stage
This is the best in improv featuring our most experienced House Teams, professional groups featuring people who trained with Hoopla and special guests from the UK improv scene.
Saturdays, 6pm – 8pm: Pre-Party
This is the best place for your show to start. This is a fun free show of up and coming new house teams and independent new groups. This is where groups can try out new ideas and develop their show in a safe supportive environment.
Saturdays, 8pm – 10pm: Main Stage
This is the best in improv featuring our most experienced House Teams, professional groups featuring people who trained with Hoopla and special guests from the UK improv scene.
Sundays, 7pm – 9:30pm: Mega Jam

This is starting up later this season. It's one big mega fun and free jam to end your week on the high. Anyone can come along and get up on stage with us to perform games, scenes and long-form, plus a couple of guest groups each night too.
This is where we gather together lots of our favourite improv groups from across UK & Ireland to introduce them to the London audience and help groups to meet each other and make new friends.
This is a non-stop show of two days and two nights with 100s of shows performing back to back over the weekend. It features groups doing one-off unusual improv ideas, especially late at night, as well as star headline acts and special guest groups. It's quite an experience!