drop-in improv workshops
A selection of great one-off improv workshops for flexible practice.
In addition to our main 6-8 week improv classes and courses we also offer shorter one day standalone workshops including beginners taster workshops, weekend intensives and Monday evening drop-ins plus additional bonus workshops every month.
Topics include Beginners Taster Days, Listening, Yes And, Spontaneity, Character, Scenes, Story, Short-Form, Long-Form, Emotional Connection, Stagecraft and more.
We also run our main longer 6-8 week improv and comedy courses including: Beginners Improv Course, Performance Improv Course, Scenes Course, Long-Form Course, Stand Up Comedy Course and Sketch Comedy Course.
This introduction to improvisation will teach the skills you'll need to master scenes, stories and sketches in a relaxed environment. The supportive atmosphere ensures that even complete beginners will have the confidence to grow their skills.

The capital's best improv. The UK's first improv comedy club.

If improvisation floats your boat you should head to The Miller by London Bridge for Hoopla. There's fewer better ways to see what spur-of-the-moment comedy London has to offer.

The workshop is supportive and collaborative and neatly strips out the expectation and nerves that result from comedic preparation.
coming up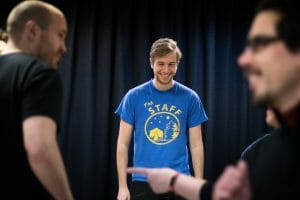 Weekends: 1 day intensive workshops with loads of practice on key themes like Character, Story, Scenes, Emotional Honesty and Stagecraft with a selection of our best teachers. Read More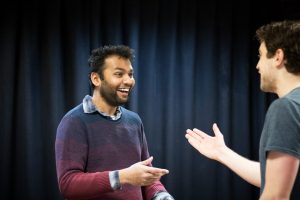 Mondays: Flexible practice classes every Monday evening. Restarting in March. Read More
What class is best for me if I haven't done any improv or acting before?

Should I do an 8 week course or a one day class?

If you can commit to a number of sessions it's better to do an improv course, as you get to progress each week and bond together as a team and learn at a faster rate. If you want something more flexible though then the one-day and one-evening classes are a good idea, as these can fit around other performing, work and play commitments.

Do I have to do a Beginners Taster Day before doing the longer course?

No. Everything we do in the Beginners Taster Day is also covered in the course. The taster day is there in case you can't make a longer course, but the longer course is the best option for starting improv.

Do I need any previous experience?

How much improv do I have to have done to do the Saturday daytime or Monday evening classes?

What class is best for me if I've done some improv or acting before?
What are the class sizes?

Around 12-14 people, maximum 16. We limit the class sizes so that the class is small enough that you get lots of time on stage but big enough that there is a fun atmosphere.

What kind of people do your classes?

All backgrounds, all ages and all levels of performing experience depending on each class. We get everyone from never been on a stage before and doing it for the challenge or just for fun, to professional actors and comedians. You don't need any previous acting background to do our classes. Everyone's welcome.

What is the age range?

We are open to all ages over 18. Impro is suitable for all ages, we've had everyone from 18 to over 80. It's physical but not more physical than normal every day life, and you are welcome to take a break whenever you want or sit out of exercises you don't think would be suitable.

Is it quite sociable?

Yes, improv is probably the most sociable hobby going. We usually stay for a drink after all our workshops, conveniently located near pubs, and The Miller is also a great place to hang out after shows. There's a massive and rapidly growing scene to get involved in.

Who teachers the classes?

Please see each workshop page for teacher biographies. All of our teachers are successful improv performers on the improv scene and regularly perform at our venue, around the UK improv circuit, The Edinburgh Fringe and International Festivals.
Thanks for the workshop. All the feedback has been extremely positive! The team loved it!

We heart you! Such a fun 8 weeks and such great people! I shall be seeing you again!

The workshop is supportive and collaborative and neatly strips out the expectation and nerves that result from comedic preparation.

Thank you for an awesome session this eve. Haven't laughed this much on a Monday eve for years 🙂

Inspiring, hilarious and richly rewarding. The workshop brightened up everyone's morning. The whole experience was a true pleasure and hugely helpful.

Great improv workshop with @hooplaimpro couldn't stop smiling from beginning until end!

Everywhere you look, huge grins suggest an enthusiasm-and an attentiveness-that is rarely seen in the classroom.

The workshop was just so much fun with an amazing teacher.

You really rocked it as ever, and I have heard nothing but good from the participants. Once again, thanks again for a splendid series of workshops.