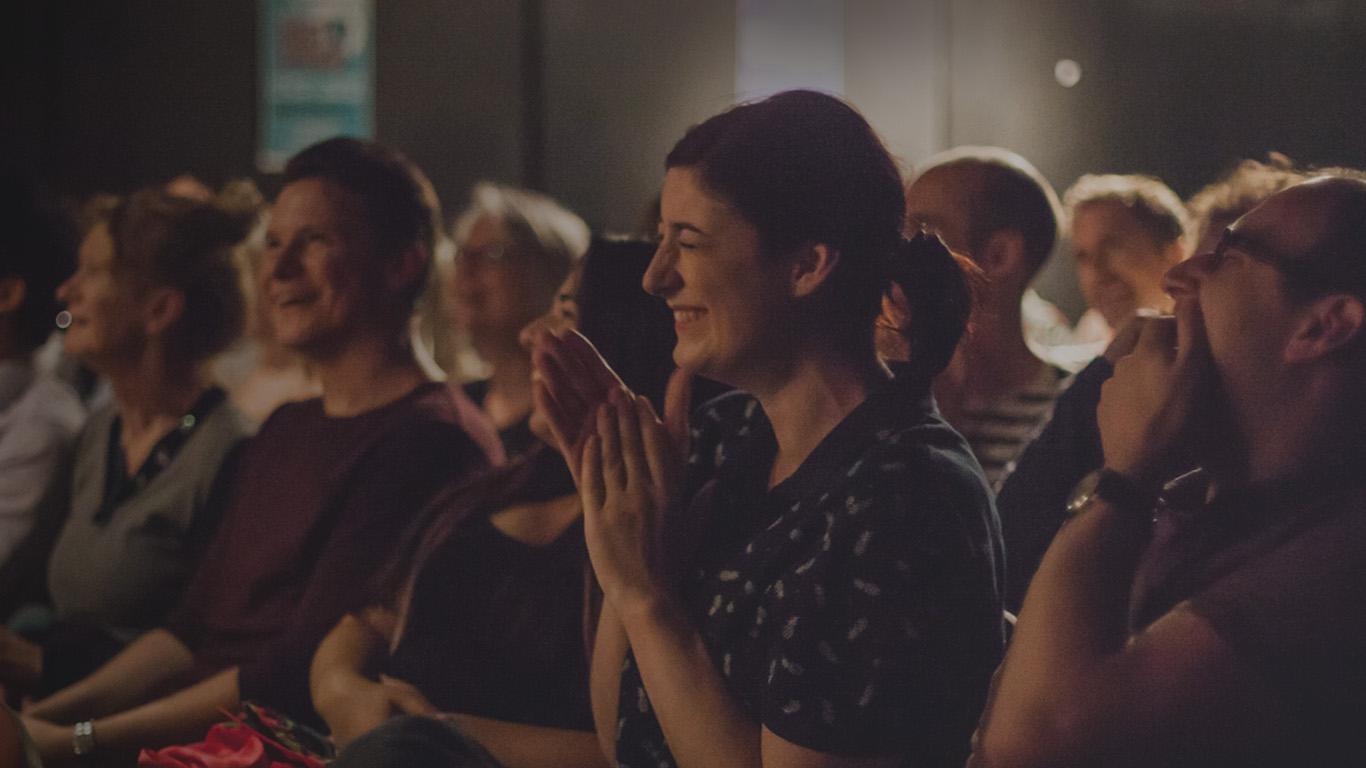 stand up
course
Real-life Training
On-demand video training

featured in

stand up comedy course
Real-life and on-demand video training available.
Have some fun learning how to write and perform stand-up comedy!
Includes a show at the end of the course (on the real-life version of the course) where you get to perform stand-up live on stage!
This course is designed for people of all backgrounds. Complete beginners are welcome. No previous experience in stand-up, writing or comedy are needed to do this course.
Our stand up comedy course is about giving you the skills to produce great work over the long-term. You'll be equipped with the techniques and philosophies required to be more creative and fully express yourself!
We aim to help you express what is uniquely funny about you. We will instill in you a passion for comedy and the confidence to perform your own material.
We provide a playful and supportive environment for our students to perform a short set every week.
This is a practical and collaborative course where you learn by doing comedy exercises every week and finding out what is uniquely funny about you.
Our coaches are working professional performers. They have been there and done it, so they know all about the journey from beginner to professional. They have unique insight into what it takes, and what has helped them make the jump.
You will learn how to write hilarious material, and how to perform it with charisma and skill. By the end of the course, you'll have an awesome 5 minute stand up set ready to go!
Plus you get to perform at our club in a fun end of course show!
Don't think it twice, do it! After this course you will learn how to structure ideas, become more creative and a better communicator.

This has been an amazing course and we learnt tons from it. Our showcase was a great success! Good job, guys! Thanks for pushing us to be the best we can!

The best thing was in fact just how much fun the course was. The teacher was great, my fellow students were great and this all made the end of course performance a blast!

Not only a brilliant teacher but also a veteran comedian and a current performer himself, so he knows exactly what you're going through. Classes are always a lot of fun & entertaining.

The course with Hoopla for Stand Up comedy was great, full of fun, games and laughter like being with old friends but they were new friends. Don't, whatever you do, hesitate to sign up for the course.

I enjoyed every moment of it and gained a lot of confidence thanks to the support and feedback that I received from my hilarious friends and talented teacher.

The course is fantastically interesting and incredibly fun. A brilliant teacher - very patient and the classes are well structured.

Not only did I complete the course but I also did a 5min comedy set at the end of the course, which I absolutely loved, I even invited a bunch of mates, which I never thought I was going to do!

The course was facilitated by an experienced stand-up in a very relaxed, fun, encouraging way.

Really enjoying the course!

The course literally built my confidence, and is the reason for my successful performance when we did our show in front of an audience...Your passion made me passionate about my stand-up! I am so grateful and happy. Thank you.
next available dates
London King's Cross/Euston:
Every Wednesday for 8 weeks from Wednesday 4th October 2023, plus show on Thursday 30th November 2023. BOOK
Every Monday for 8 weeks from Monday 2nd October 2023, plus show on Monday 27th November 2023. SOLD OUT
Every Tuesday for 8 weeks from Tuesday 20th June 2023 with Tom Crowley, plus show on Monday 14th August 2023. SOLD OUT
Every Wednesday for 8 weeks from Wednesday 21st June 2023 with Tom Crowley, plus show on Tuesday 15th August 2023. SOLD OUT
Time: 7pm – 9:30pm each week.
Price: £245. Either payable all at once or with an initial payment of £100 followed by the remaining £145 once the course starts.
Venue: Cromer Studios, 98 Cromer Street, King's Cross, London, WC1H 8JU.
Tube: King's Cross/Euston/Russell Square/Warren Street.
London Liverpool Street:
Every Tuesday for 8 weeks from Tuesday 5th September 2023 with Nick Hall, plus show on Saturday 28th October 2023. SOLD OUT
Time: 7pm – 9:30pm each week.
Price: £245. Either payable all at once or with an initial payment of £100 followed by the remaining £145 once the course starts.
Venue: Kobi Nazrul Centre, 30 Hanbury Street, London, E1 6QR.
Tube: Liverpool Street or Shoreditch High Street.
London Bank / Fenchurch Street:
Every Wednesday for 8 weeks from Wednesday 20th September 2023 with Nick Hall, plus show on Wednesday 15th November 2023. SOLD OUT
Time: 7pm – 9:30pm each week.
Price: £245. Either payable all at once or with an initial payment of £100 followed by the remaining £145 once the course starts.
Venue: Theatre Delicatessen, 107 Leadenhall Street, London, EC3A 4AF.
Tube: Bank / Fenchurch Street / Monument / Aldgate / Liverpool Street.
nick hall
Nick Hall is a stand-up, improviser and writer. He has written and performed for BBC2, BBC3, and BBC Radio 4.
Nick has taken six solo shows to the Edinburgh Fringe Festival, as well as performing at the Brighton Fringe, Latitude Festival, Soho Theatre, Princes Trust, and Bloomsbury Theatre.
Nick started his comedy career by beating the Gong at The Comedy Store, beating the Blackout at Up the Creek, and winning the New Act Night at the Comedy Café. He has now performed over 500 gigs across the UK and Europe.
Nick comperes a variety of live events, including cult movie night Hot Tub Cinema and hit football show Comedy Commentary. He also performs with The Committee, one of London's hottest improvised comedy groups, and has appeared on Sky News, The Times Red Box podcast and written articles for The Independent.
"Crackingly original" ★★★★ The List
"Side splittingly funny" ★★★★★ ThreeWeeks
"Mad cap energy" ★★★★★ British Comedy Guide
"One not to miss" ★★★★ The Skinny
"Genuinely hilarious" ★★★★ Fringe Review
fran bushe
Fran Bushe is an award-winning comedian, writer and performer.
She has had sold-out runs at Soho Theatre, The Roundhouse and she has been a resident artist at Pleasance Theatre, Arts Depot and Theatre Deli.
An adaptation of Fran's solo show Ad Libido has just been released by Channel 4 as a Comedy Blap.
Fran's multi-award winning comedy play Ad Libido had a highly successful run at VAULT Festival ('Highly Commended' award winner, ★★★★ The Stage), Pleasance Theatre Edinburgh (Sold Out run, ★★★★ The Guardian, one of the Guardian's top shows to see at the Edinburgh Fringe) and Soho Theatre, London in 2019.
Fran is a writer for Comedy Central's sketch comedy show Laughing at Salad and her play Alive Day is published in 20 Short Plays with Big Roles for Women (Routledge Books). She has written features for The Guardian, Cosmopolitan, Metro and been a guest on BBC Radio 4's Woman's Hour.
★★★★ "Relentlessly hilarious" The Stage
★★★★ "Smart and audacious" The Guardian
★★★★★ Londontheatre1
★★★★★ Arthur's Seat
★★★★★ Fringe Review
★★★★ Theatre Weekly
★★★★ Upper Circle Theatre
Performer of the Year – Sexual Freedom Awards 2019
The Guardian's 'Best Shows of the Fringe 2018
tom crowley
Tom Crowley is a writer, actor and comedian, best known for writing the stage adaptation of Rocky Horror sequel Shock Treatment and performing in TV drama The Royals.
He writes and performs (as Eric Chapman) in the Prix Europa-nominated podcast sitcom Wooden Overcoats. He also appears regularly in podcasts Victoriocity and The Beef & Dairy Network Podcast. His episode of BBC Sounds's anthology drama podcast Murmurs was selected to launch the series in January 2020.
He has also performed in audio productions for BBC Radio 4, Audible, Fremantle Media and Somethin' Else.
He has written for Cartoon Network Studios Europe, BBC Radio 4Extra, BBC Radio Wales, Wooden Overcoats, Six to Start and Bafflegab Productions. Tom worked as a series writer on the second season of BAFTA-winning animated series The Amazing World of Gumball for Cartoon Network Studios Europe
As part of comedy group Sad Faces, he co-created the sketch show Four Sad Faces for BBC Radio 4Extra in 2008, produced by Victoria Lloyd. His writing has also been heard in BBC Radio Comedy's The Now Show, The News Quiz and The Show What You Wrote.
In 2019 his stand-up hour, Tom Crowley's Mass, performed at multiple venues and festivals nationwide. His solo sketch and character comedy podcast Crowley Time is available on all podcast apps. His modernised adaptation of Charles Dickens's Great Expectations was published by Methuen in 2017.
"Crowley's comic writing is a superb match for the show's lunatic satire" Time Out (on Shock Treatment)
"Funny, gripping theatre" The Stage (on Great Expectations)
"The star of the show here is adaptor Tom Crowley" WhatsOnStage (on Shock Treatment)
"The podcast equivalent of impossible to put down" Vox (on Wooden Overcoats)
topics
Introduction to stand-up comedy
Creative techniques to generate material
Pulling comedy from truth
Exploring your point of view
Getting to the heart of the funny
The art of storytelling
Making fresh observations
Discovering your comic persona
Joke writing techniques
Polishing up your routine
Writing collaboratively
Creating a comedy peer group of like-minded friends
Performing with confidence and charisma
Final show preparation
Careers advice
Tips and next steps for future progression
Most of all getting up every week and actually doing it!
Who is this suitable for?

Anyone interested in writing and performing stand up comedy.

What previous experience do I need before doing this course?

None. You don't need any previous writing or comedy experience before starting this course.

What comes after this course?

We also have a variety of sketch comedy and improv courses that go well with this course.

What's the class size?

Average of 12-14 per workshop, maximum of 16 people.
Do I have to do the show at the end?

No. The show is optional and you'll still get loads from the course even if you don't want to do the show.

What if I can't make it every week?

Missing one week will still be ok but please don't book the course if you are likely to miss more than one week.

What happens if I'm late?

We'll be starting each session at 7pm. We're trying to form a team, so please don't book this course if you are likely to be late on a regular basis.
Also Available: On-demand Video Training
How to do Stand-Up Comedy On-demand Video Training
Learn how to write and perform stand-up comedy
A step-by-step guide to move from comedy beginner to performing your own hilarious routines. Engaging videos, fun exercises and a ton of handy tools to make your journey as quick and easy as possible!
This course is the PERFECT learning resource for anyone looking to get into stand-up comedy and achieve real results in no time.
So why not start your stand up journey today!
What you'll learn with us...
Coming up with ideas: no ideas for jokes? No problem! We'll take you through a proven process to help you discover angles and ideas to have the audience in stitches.
Finding your voice: what is funny about you? It's a tough question! But don't worry: we'll help you uncover your unique comedic persona.
Owning the stage: the comedians on TV make performing look so easy-we'll reveal their secrets so you be charismatic on stage too.
Build your confidence: the idea of performing comedy can be a terrifying business. We get that, which is why we'll give you practical tools to build up your confidence so fear will never hold you back.
Plus loads more! Including how to improve your joke-writing, tips to learning your material, putting together a winning routine, and the next steps to becoming a full-time comedian. You won't find this advice anywhere else!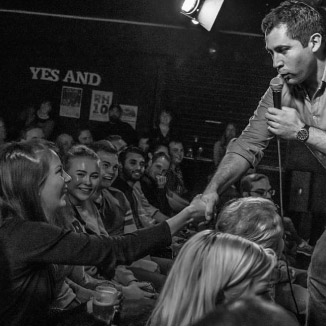 16 unique video tutorials
We cover everything from generating material, to stagecraft, to preparing for your first gig. With engaging in-depth video content.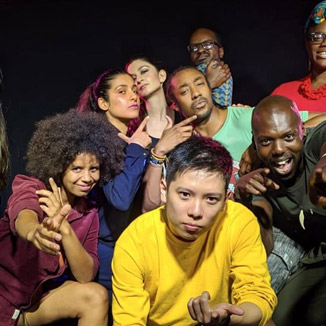 In-depth course handbook
On top of all the content in the tutorials, you'll also get access to a coursebook with notes, bonus exercises and examples of everything we talk about from the world's best comedians.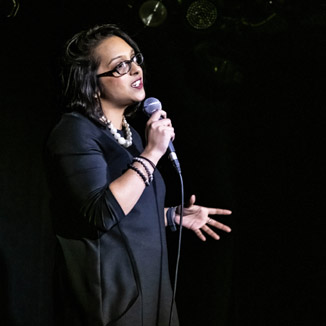 We walk the talk
Your instructor is someone who is a current working comedian with thousands of shows under their belt. They know what it takes. So everything you learn will be road-tested and practical.