From 19th July 2021 there are no legal restrictions on our classes or shows, however some of our covid safety measures will be staying in place and others will be gradually phased out rather than being removed all at once. This is so we can keep improv fun while also keeping safety in classes and shows. We will also be able to adjust month by month and rollback changes if needed.
If you have symptoms, test positive, are contacted by Test and Trace, or pinged by the app, please do not come in to classes or shows for the recommended amount of time.
We know it has been confusing with people being pinged by the app, but unfortunately if you have we would also ask you to stay away from classes/shows for the recommended amount of time.
Here's the plan:
Safety Checks on Arrival
Staying longer term.
Please remember to not come to class if you have any of these symptoms:
High temperature or fever.
A new, continuous cough.
A loss or change to your sense of smell or taste.
The at-a-distance temperature checks however are being phased out over July and August.
Reduced Class Sizes
Gradually being phased out over July and August 2021.
Class sizes have reduced from 16 to a maximum of 8-12 or even less, depending on room size. Smaller rooms have less people, bigger rooms have more people.
Small Working Groups
Gradually being phased out over July and August 2021.
We then split the class size into even smaller set working groups over the evening, so you are in groups of 6 or less.
Increased Room Sizes
Staying longer term.
We are booking the biggest rooms we have available. When these aren't available we are decreasing the class size even more.
Staggered Start Times
Staying longer term.
We are staggering the start times of workshops in shared venues and streamlining check-in to avoid queues and overcrowding in shared areas.
Improved Ventilation
Staying longer term.
The windows and doors are open to have fresh air flowing, or if this isn't possible there is air conditioning using outside air ventilation.
Regular Cleaning
Staying longer term.
All rooms are cleaned before the workshop starts and in-between classes, including all surfaces.
Hand Washing Facilities
Staying longer term.
Hand washing facilities at reception, shared areas, toilet areas and in rehearsal rooms.
Track and Trace
Staying longer term.
For Hoopla this is already covered by you booking onto the class online, but some of our venues may ask for an additional sign up on arrival for their own Track and Trace records.
Booking Flexibility
Staying longer term.
We are giving you full flexibility on all bookings, past, present and future.
Face Coverings
You don't have to wear a face covering during the actual class, as per Department of Digital, Culture, Media & Sport guidelines for the performing arts. Please wear face coverings when moving around the venue and in shared common areas.
Non-Contact Physically Distanced Games
Gradually being phased out over July and August 2021.

We've redesigned our games and exercises and trained our teachers to have non-contact and at-a-distance (1 m+) versions of all games. All of our games and show formats can be adapted, we were already teaching like this all autumn, and improv at Hoopla is still really fun, friendly and playful.
Emotionally Connected
Forever!
We might be socially distanced, but we're still emotionally connected and workshops are still going to be really playful and lots of fun!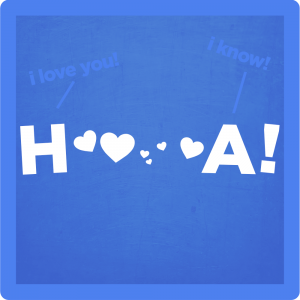 More Info:
>> Improv at 1m+ is still fun!
>> Guidelines for our teachers
>> Guidelines for our performers
>> Guidelines for our front of house
>> Hoopla's full risk assessment
>> Government guidelines for performing arts