Client and Student Interviews
Hoopla facilitator and teacher Liam Brennan interviewed a diverse range of Hoopla clients and students to ask how they've applied improv into their work life and businesses. Here's what they had to say.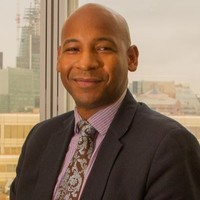 Belton Flournoy: Director at Protiviti
Liam: Can you tell me a bit more about you and your work?
Belton: I am a Director at a Global Management Consultancy, which focuses on Business Risk, Internal Audit and Regulatory Compliance.  We deal with global transformation, regulatory or technology projects where the stakes are quite high.  When people are invested in large programmes, outcomes are typically watched carefully.  We work with the C-suite to get the most out these strategic programmes, as well as have them continually think of new and exciting ways of delivering change.
Liam: After taking a public course with us, why did you want to get Hoopla involved with your UK office?
Belton: Mainly because of the impact it has had on me personally.  I mentioned at work how we have to be in a lot of high pressure situations with senior people.  All of us get nervous and then have to effectively communicate a message.
Sometimes you are in one of these sessions with others and the value of yes and is quite strong in these situations. Saying yes validates your idea and shows agreement.  When you validate a colleague's idea, it gives them power to continue, and shows a client that you truly mean what you are saying.
When my MD heard this feedback, he said we should get them in to share with other people.  It turned out to be the highlight of the day.
Liam: What have been some of the main takeaways from taking part in Hoopla workshops?
Belton: Improv is not only about having fun, it is about self esteem.  I am normally outgoing and quite talkative, however that feeling of inadequacy or nervousness does not go away.
As a lot of our role is meeting new people and speaking about what we do, improv has helped me to truly listen to what my clients want, understand their problems and then effectively work with others on my  team to  deliver a concise and consistent message
What Improv has taught me is that we judge ourselves in a way that we don't have to.  When you are your authentic self and listen to others, you can have a sense of inner strength.  Why? Because you stop caring what others might think of you, and focus on the messages you are trying to portray and deliver.
Thanks for the workshop. All the feedback has been extremely positive! The team loved it!

We walked away with communication techniques that will stick with us for a lifetime.

The skills you taught them will give them a real competitive edge in the market place.

Inspiring and hugely relevant to how we work.

I've used the communication skills learned at Hoopla to attract over $3m in venture capital for my start-up. And had fun doing it!

A smash hit. The feedback has been really amazing.

Improv has helped me to truly listen to what my clients want, understand their problems and then effectively work with others on my team to deliver a concise and consistent message.

My work is about helping clients be more creative and uncover different possibilities and develop them - which improv has really helped with.

Improv has supported my listening and support work for people I represent.

Improv is a great release to just mess around while building on the communication skills, confidence and self esteem that help me in my day to day job.

Really useful for building self confidence and being able to communicate better with people who I was meeting for the first time.

Improv helped me have more faith in myself, particularly in meetings with clients or senior stakeholders. I have more confidence that whatever comes out of my mouth will make sense and be of value.

I think improv makes people kinder to others and themselves. It teaches you to listen, react and support and I think everyone could benefit from more of that individually and collectively.
Get in touch with us for more information and details on how to book your session.